(Written by Soeren Kern. Originally published  on Gatestoneinstitute.org  on February 1, 2016. Re-printed with permission.)
After three months of political infighting, Germany's coalition government has announced new measures aimed at making it easier to deport migrants who are convicted of committing crimes.
The measures emerged in response to voter outrage over the sexual assaults of hundreds of women by migrants in Cologne and other German cities on New Year's Eve — and alleged attempts by the government and the news media to cover up the crimes.
Known as the Asylum Package II (Asylpaket II), the draft law was announced by the cabinet on January 28 and must now be approved by the Bundestag, the lower house of the German parliament, for it to come into effect.
A central feature of the plan involves increasing the number of migrant reception centers to five, up from two today. The centers would supposedly fast-track legitimate asylum requests submitted by people who can prove they are fleeing war-zones.
The centers would also step up efforts to weed out fraudulent applications submitted by economic migrants who are posing as asylum seekers. The stated aim is to eventually deport those who arrived in Germany under false pretenses.
In addition, the plan would introduce a two-year waiting period for legitimate refugees who want to bring family members to Germany. Exceptions would be made for those who can prove that their family members are being "personally, urgently persecuted."
The government also said that it would try to limit migration from North Africa by declaring Algeria, Morocco and Tunisia as so-called safe countries, where there is no armed conflict or threat of violence, persecution or torture. This would make it virtually impossible for asylum applications from those countries to be approved.
Critics of the plan say it is more of a political charade than substance and will do little to alleviate Germany's migration crisis.
First, the German government has lost track of the whereabouts of hundreds of thousands of migrants who entered the country in 2015. N24 television has reported that up to 50% of "asylum seekers" have gone into hiding; their whereabouts are unknown. They presumably include economic migrants and others who are trying to avoid deportation if or when their asylum applications are rejected. The Saarbrücker Zeitung reported that up to 30% of the migrants being sheltered in the eastern German states of Brandenburg, Thuringia and Saxony-Anhalt have "simply vanished." Separately, German authorities estimate that hundreds of thousands of migrants have entered the country without being registered and whose whereabouts are unknown.
Second, tens of thousands of migrants destroyed their passports and other identity documents before arriving in Germany. It may take years for German authorities to determine the true identities of these people and their countries of origin. This will complicate — and delay — many deportations. Even if Germany sends these individuals back to the countries where they first entered the European Union (usually Greece, Hungary or Italy), with a borderless Europe, migrants can easily make their way back to Germany.
Third, the legal hurdles to deportation from Germany are high. German law states that migrants who commit crimes can only be deported if they are sentenced to prison terms of three years or more. In practice, this rarely happens for most petty crimes. The government is contemplating a change to Section 60 of the Residency Law (Aufenthaltsgesetz) to make it possible to deport migrants sentenced for prison terms of one year. But even if migrants are sentenced for crimes, they cannot be deported to countries that the German government deems "unsafe." Moreover, migrants cannot be deported to countries where they may face the death penalty.
To many critics, it looks as if the German justice system is being disabled by political correctness. Although migrants are driving a surge in violent crime in cities and towns across Germany, German authorities are downplaying the lawlessness, apparently to avoid fueling anti-immigration sentiment.
A confidential police document leaked to the Rheinischen Post revealed that in 2014, a record-breaking 38,000 asylum seekers in Germany were accused of committing crimes in the country. Analysts believe this figure — which works out to more than 100 crimes a day — is only a fragment: many crimes are not made public.
In Hamburg, police are fighting a losing battle against purse-snatchers. Each year, more than 20,000 purses — roughly 55 a day — are stolen. According to Norman Großmann, the director of the federal police inspector's office in Hamburg, 90% of the purses are stolen by males between the ages of 20 and 30 who come from North Africa or the Balkans.
In a bestselling new book about the failure of multiculturalism in Germany, Tania Kambouri, a German police officer, describes the breakdown of the German justice system and how German judges are reluctant to punish migrants, including repeat offenders.
Fourth, the German government's decision to deny asylum requests submitted by migrants from Algeria, Morocco and Tunisia will have little effect in practice. Out of one million migrants who entered Germany in 2015, fewer than 20,000 are believed to have come from those three countries.
Meanwhile, a new poll published by the newsmagazine, Focus, shows that nearly half the Germans want Chancellor Angela Merkel to resign because of her open-door migration policy: in 2015, it allowed more than one million migrants from Africa, Asia and the Middle East to enter the country.
Still, Merkel steadfastly continues to refuse to implement the one policy that could prevent the migrant crisis from becoming even worse: closing the German borders to keep the migrants out.
Despite snow, ice and freezing temperatures across much of Europe, migrants are still coming to Germany at the rate of about 2,000 per day. More than 54,500 people reached Europe by sea during January 2016, including 50,668 through Greece, according to the United Nations Refugee Agency (UNHCR).
The International Monetary Fund (IMF) estimated that 1.3 million asylum seekers would enter the European Union annually during 2016 and 2017.
In a January 9 interview with Bild, Development Minister Gerd Müller warned that the biggest refugee movements to Europe are still to come. He said that only 10% of the migrants from the chaos in Iraq and Syria have reached Europe so far: "Eight to ten million migrants are still on the way."
Separately, Germans face being denied visa-free travel to the United States, as U.S. security officials become increasingly alarmed at the proliferation of fake passports that could be used by terrorists. According to a report by Politico:
"In the aftermath of Paris, the U.S. Department of Homeland Security became so worried about the implications for screening travelers to America that it gave France, Belgium, Germany, Italy and Greece a February 1 deadline to fix "crucial loopholes" or lose access to the U.S. visa waiver program. The program allows about 20 million people per year from 38 countries, most of them in Europe, to enter the United States for business or pleasure without a visa."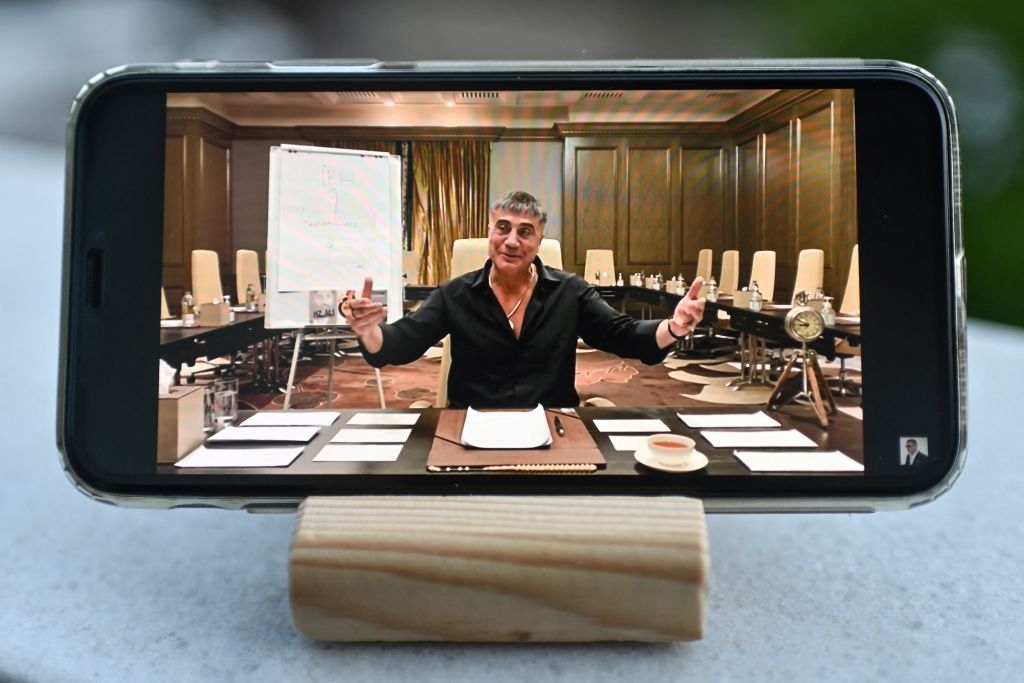 Left: A new poll shows that nearly half the Germans want Chancellor Angela Merkel to resign because of her open-door migration policy. Right: Interpol has data on 250,000 stolen or lost Syrian and Iraqi passports, including passports that are blank.
According to Politico, in the last five years the number of lost and stolen passports in the EU has doubled. The number of forged passports in the Middle East is also a rising concern. Interpol has data on 250,000 stolen or lost Syrian and Iraqi passports, including passports that are blank.
Soeren Kern is a Senior Fellow at the New York-based Gatestone Institute. He is also Senior Fellow for European Politics at the Madrid-based Grupo de Estudios Estratégicos / Strategic Studies Group.  His first book, "Global Fire", will be out in 2016.